Say hello to a new, revamped Planday
We're very happy to announce that we're launching an updated Planday that's faster and more user-friendly, with better functionality for our customers.
Over our decade of experience, we've created a comprehensive platform that makes the lives of hourly workers and their managers less stressful.
During that time, we've deepened Planday's functionality and expanded our customer base — which is really exciting! We've listened to your feedback, and have made significant improvements to the design and usability of Planday. Today, we're excited to tell you about the best improvement to Planday yet.
We're launching a faster and more user-friendly Planday on both desktop and mobile— with better functionality for our customers.
If you're already a Planday customer, you'll receive an email from us in the next few weeks when your Planday account is ready to be moved over to the new Planday platform. In the meantime, you can learn more about the specifics by reading our Planday update FAQs.
Read on to learn more about some of the improvements you can expect to see.
Improved Schedule and People sections
The biggest changes can be seen in the Schedule and People sections of Planday. Those are the areas of the product that our customers use the most, and the ones that needed the most lovin' :)
Enhancements to the Schedule
The Schedule has a sleek new design that makes it easier to navigate and quicker to use. We've added more features, designed to save you time.
Schedule templates
We're happy to say that we're releasing one of your most requested features: you can now create a template within your schedule. That means templates now function like an interactive schedule builder, where you can switch between views and see your salary costs.
You can create a template based on an existing schedule, or make one from scratch in the template editor. Use the template editor to keep your schedule in draft mode until you're ready to publish.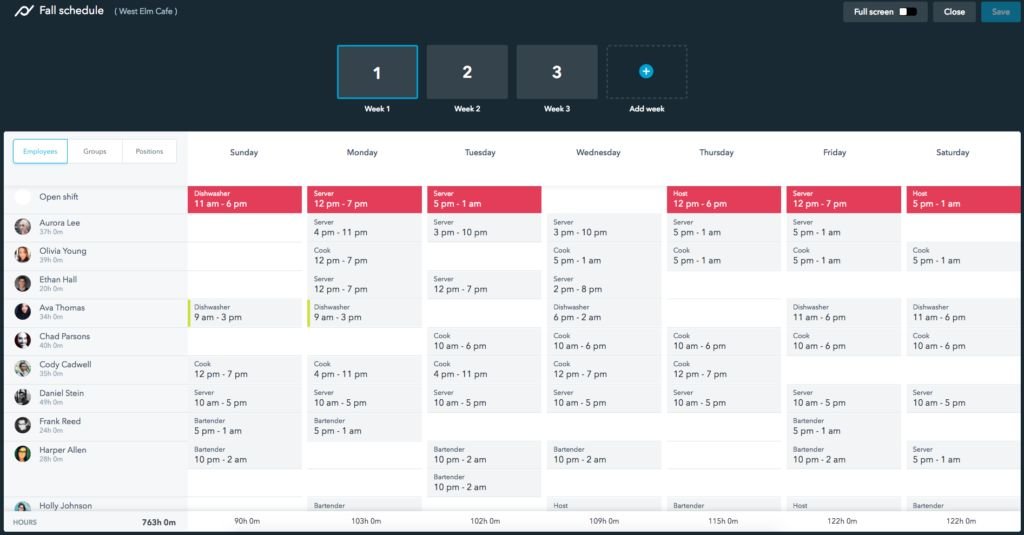 When you apply a template, you'll also be notified if you're breaking any working time rules, ensuring you get your schedule right the first time.
To start using Schedule templates, go to Schedule > Templates > Create new. Read more about how Templates work in the Help Center.
Drag and drop shifts in the Schedule
To move a shift, simply drag and drop it elsewhere in your schedule. You can also drag and copy a shift by using Cmd or Ctrl and placing a copy of the shift wherever you need it. Read more about using drag and drop shifts in our Help Center.

Revenue and salary cost in Schedule
Upcoming salary costs and your expected revenue are now visible in your schedule — either by day or week. This new feature lets you compare your salary costs with your expected revenue, giving you a real time overview of your profit while you're building your schedule.
New view options & Groups view
In Planday, employees are organized into Departments and Employee groups. This offers different views of your schedule: Employees, Groups, and Positions. We've updated the Employees and Positions view to give you more customizable options and a deeper look at your schedule.
We've added the Groups view, so you can see your schedule by an employee's role (e.g. bartenders, hosts, waiters, etc.). From here, you can see the number of hours you have on the Schedule and your expected payroll costs for each Employee group.
We're really excited to introduce the new month view! Here, you can filter shifts by status (open, approved, for sale, etc.) and shift type (sick, absent, late, etc.). These filters are also available in the Employees, Groups, and Positions view.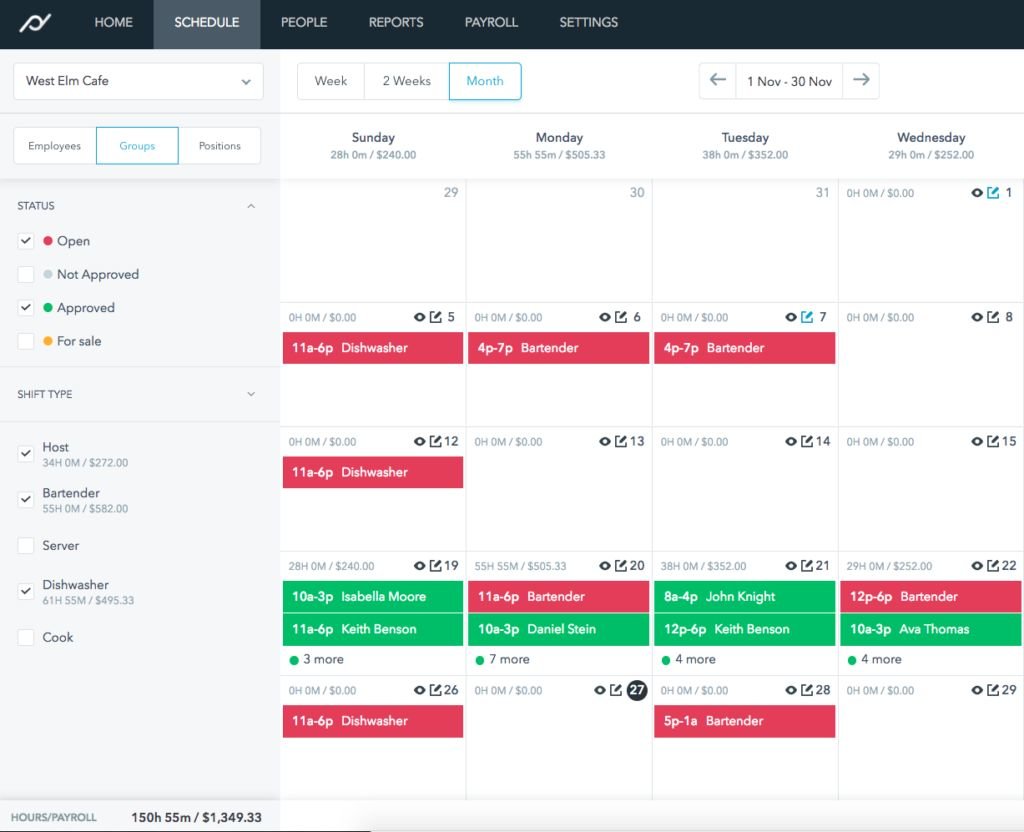 Improvements to People
The People section has undergone a design update to help you add, edit, and filter employees in less time.
Employee quick edit
We've added a quick edit option to the People section, so now you can edit the most commonly changed information, like which department or groups an employee is a member of. If you need to edit an employee's information further, you can jump to the full-view employee editor to update details such as their salary or address.
Customized People dashboard
You can decide which information you view in your People dashboard (email address, phone number, position, etc.), so you have an overview of the information that is most relevant to you.
Custom fields
If you need more advanced information for your employees, you can use custom fields. Use custom fields to add any information you'd like to your employees (allergies, key information, shirt size, etc.).
Updates to the Planday app
The Planday app is a great way to update the schedule, message employees, and manage HR processes on the go. We've refreshed the app design, and added new functionality that will make working from any device faster.
Create employees
Quickly add employees by going to People > + > Create employee, keeping your People section updated on the go.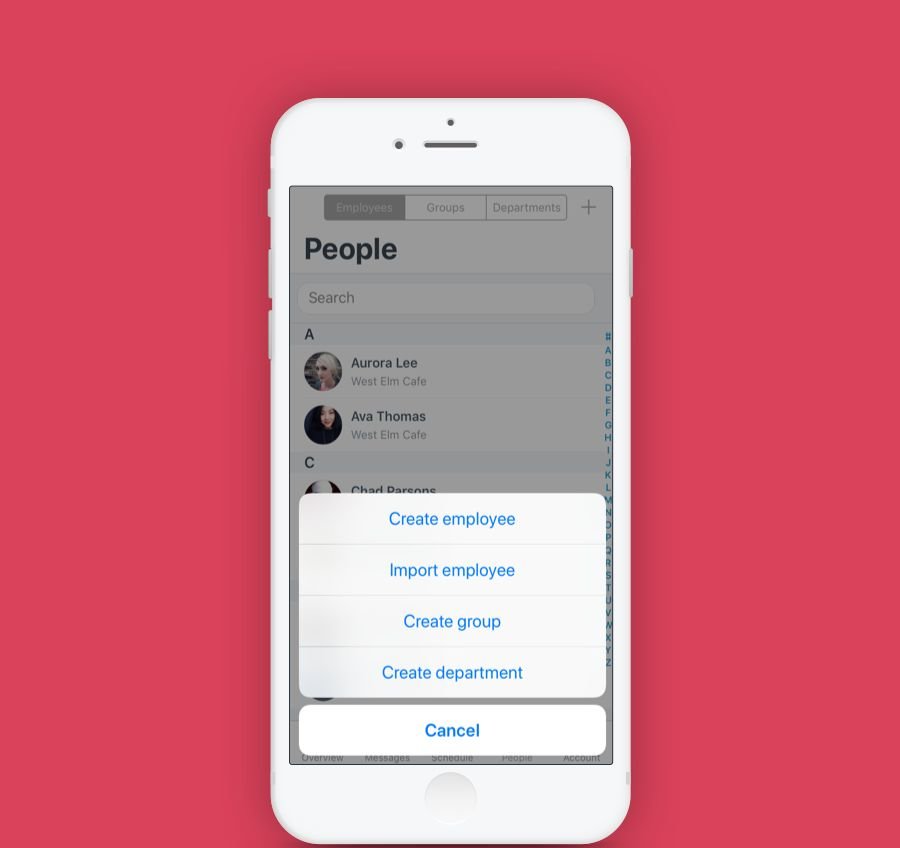 Refreshed Overview and Account
You'll notice cleaner, sleeker Overview and Account sections of the app. From the Overview screen, you can see more relevant information, like all your upcoming shifts. From the Account section, you can now see all your personal information like your payslips, documents, etc. From here, employees can also submit their working availability.
iPad app enhancements
If you've upgraded to iOS 11 on your iPad, you'll notice a handful of convenient new features, including:
Final thoughts
Today, we're taking a huge step towards bringing our vision to more businesses by making it even easier to manage employees and build a conflict-free schedule. We've specifically designed this update to help our customers get work done faster. We can't wait for you to give the new Planday a spin.
Learn more by reading our Planday update FAQs.
Once your account has been upgraded, please send your feedback using this form (don't worry, we'll send you this form again once it's your turn to be upgraded ??).