Planday is unwrapping some exciting new features!
The weather outside may be frightful, but these new Planday features will make scheduling feel delightful!
It's starting to feel a bit like the North Pole around here— we've been busy tinkering away on some really exciting Planday features. If you're a Planday customer, you might have noticed some of these changes already, but some are brand-new, so you're in for a nice holiday surprise either way ?
We have a ton of new features to update you on, including:
New Schedule functionality
Updated edit shift design | Advanced day functionality | History on shift | Copy shift | Working time rule report | Revenue in Schedule | Detailed Month view
Updates to the People section
Customizable People list | In-depth employee details | Employee quick edit | Employee contracts | Edit access levels
Mobile app improvements
New Schedule layout | Refreshed Overview and Account sections | Ipad enhancements
New Schedule functionality
The Schedule is at the heart of Planday, and it's the most used part of the platform. We've taken a lot of customer feedback into account over the last few months, and are excited to announce the following features and design updates based on what you've had to say.
Updated design for edit shift
We've updated the design for the edit shift option, making it easier to get an overview of a shift's details from one place. You can create and edit a shift, as well as add breaks, approve it for payroll, and add comments.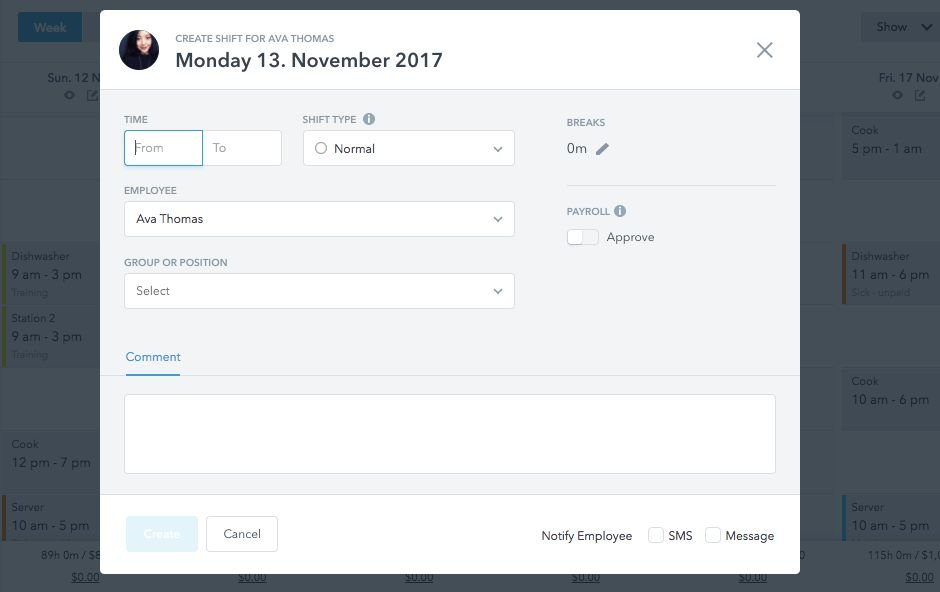 Advanced day functionality
Hide day (or longer periods)
You can now hide a day from the Schedule, enabling you to work in draft mode without employees seeing your changes until you're ready to show the day again. To hide a day, click the eye icon under the day of the week. You can also hide longer periods by going to Schedule > Tools > Hide/show period.
Note on a day
Customize your schedule even further by adding a title or note to a day. A note is only visible to those with Schedule Admin access, so it's useful for reminders like adding more people to busy periods. The title of a day is visible to all users, so it's best for sharing special events.
Day templates
The name says it all ?  Day templates are perfect for days when you open or close early, or have other special scheduling needs that come up on a regular basis. To create a Day template, go to Schedule > Templates > Create template > Day
History on shift
When editing a shift, you can now see the shift's edit history. This makes it easy for you to get to the bottom of any scheduling changes. This feature is especially useful if you have a large business with multiple schedule managers.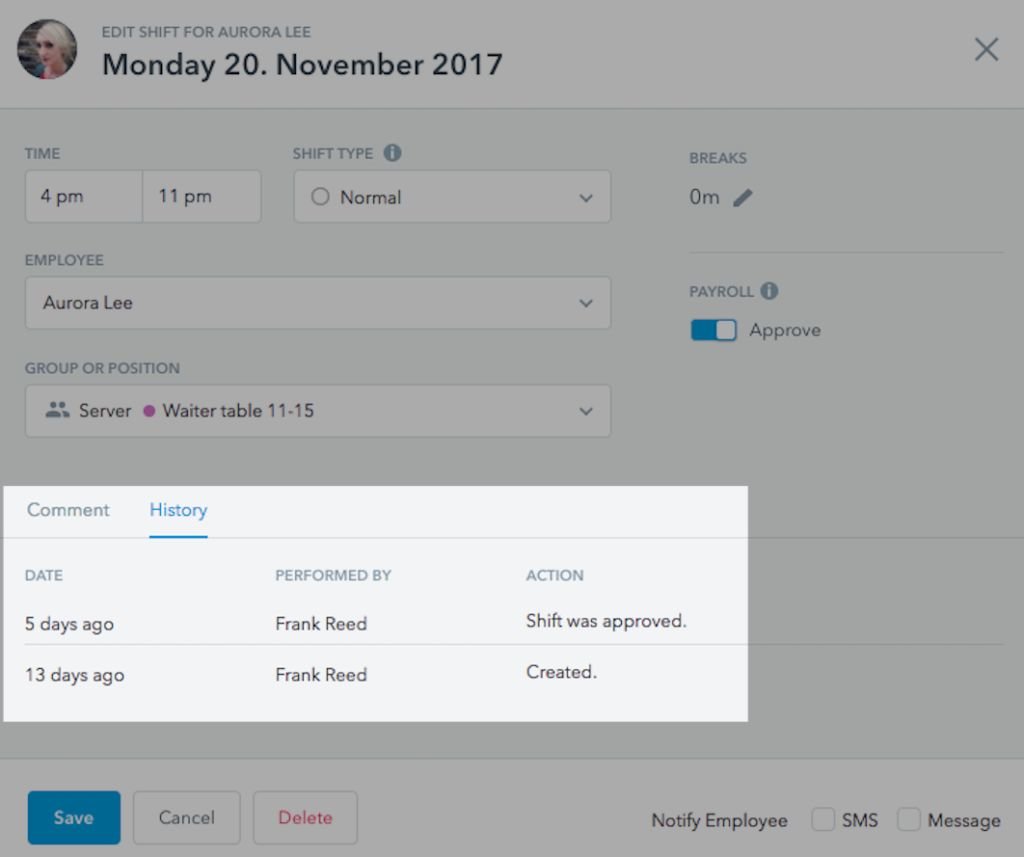 Copy shift
If you need a batch of identical shifts, simply copy a shift as you create it. You can combine this feature with our drag and drop feature to create multiple identical shifts, then drag and drop them to where you need them on the Schedule.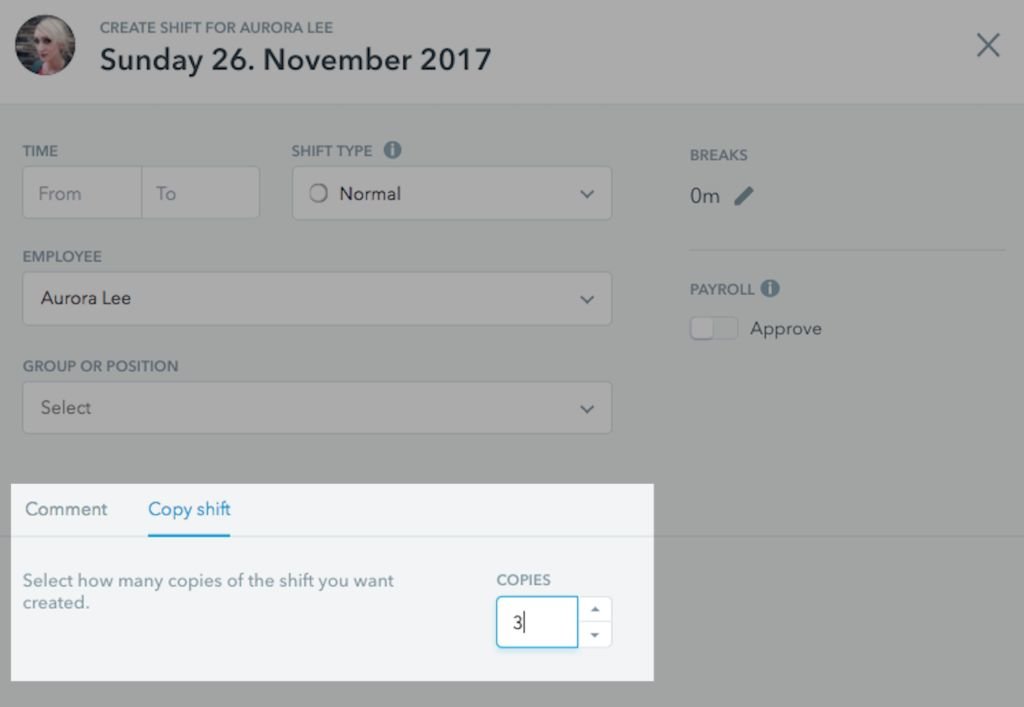 Working time rule report
You can download and print a Working time rule report right from the Schedule. With this feature, you can select a date range, the labor rules you'd like to run a report on, and the relevant Employee groups or Departments. Go to Schedule > Tools > Working time rule report to get started ?
Revenue in Schedule
We've updated how you view your expected revenue in the Schedule. At the bottom of your schedule, you can see the hours worked, your payroll costs, your revenue, the percentage of revenue you pay in salaries, and how that aligns with your targets. All of this can be seen per day, week, or 2 weeks. With this feature, you can instantly see an in-depth report on your business metrics as you build your schedule.
This feature is only available on Plus plans. Read more on how to set up revenue in our Help Center.
Detailed Month view
We're really excited to introduce the new month view! There's a lot of functionality packed into this little feature. Here, you can filter shifts by status (open, approved, for sale, etc.) and shift type (sick, absent, late, etc.). These filters are also available in all views: Employees, Groups, and Positions.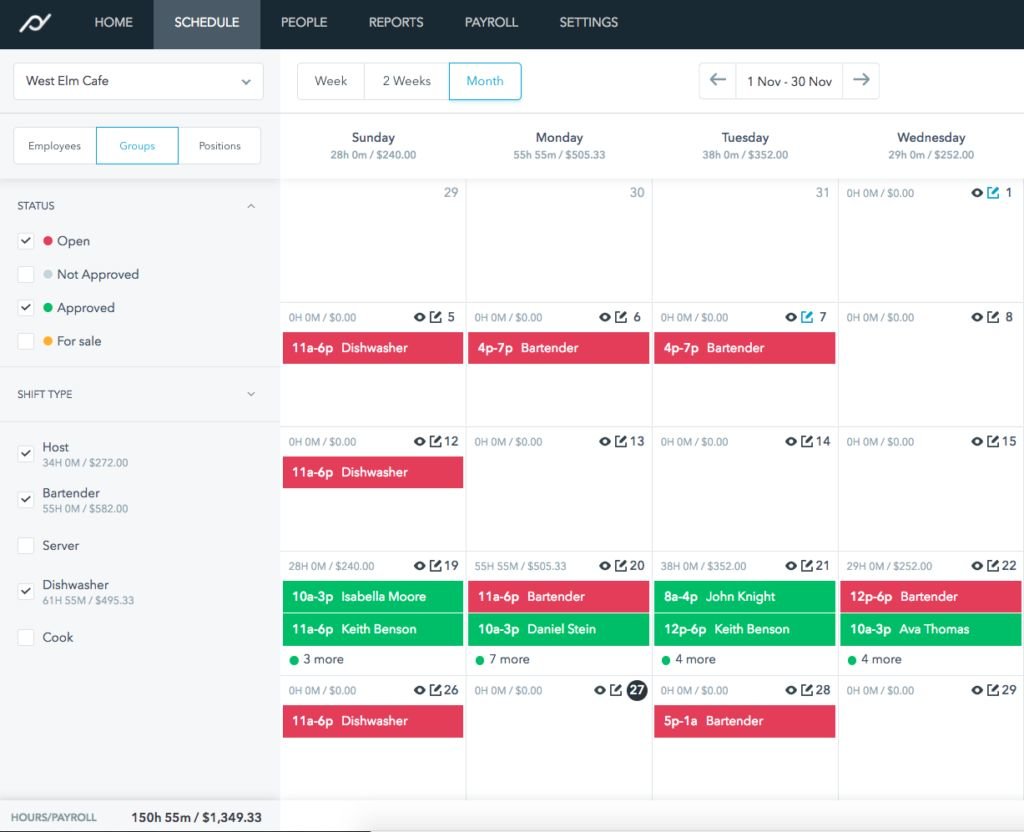 New updates to the People section
The People section has undergone a design update to help you add, edit, and filter employees in less time. We've added a new Tools menu in the top right, so you can quickly export data, see log in statistics, get an overview of your documents, and send logins to employees.
Customize your People list
You can decide the type of information that's visible in your People list (email address, phone number, position, etc.), so you have an overview of the information that is most relevant to you.
More in-depth employee details
If you need more advanced information for your employees, you can use custom fields to add things like allergies, shirt size, etc. This allows you to create a totally custom employee profile. Set up custom fields by going to Settings > People > Employee form setup > Edit.
We've also updated your options for editing an employee's profile. Go to the People section, and click on the pencil to the right of any employee. From here, you can change more detailed information like username, password, upcoming shifts, vacation, and notes. You can also add an employee's monthly salary. This allows you to fully customize each employee's profile to fit your specific HR needs.
Employee quick edit
We've added a quick edit option to the People section, so now you can edit the most commonly changed information, like which department or groups an employee is a member of. Simply click on an employee from the People section to quickly edit their details.
If you need to edit an employee's information further, you can jump to the full-view employee editor to update details such as their salary or address by clicking on the pencil to the right of an employee.
Employee contracts
Now when you invite an employee to join your Planday account, you can send their contract at the same time, making your onboarding process quick and smooth. If you want to send a contract at a later date, you can do so from the full-view employee editor.
Quickly edit different access levels
If you want to change an employee's security access level, you can now quickly do so from the People section. From here, you can decide whether or not an employee should have Admin, HR manager, or Schedule manager privileges.
Updates to the mobile app
The mobile app is a great way to update the schedule, message employees, and manage HR processes on the go. We've refreshed the app design, and added new functionality that will make working from any device faster.
New Schedule layout
We've refreshed the layout and design of the Schedule ? The menu from the Schedule has more structure, so you can change between different date ranges, views, and Departments. We've also updated the user interface, making it cleaner and faster to use.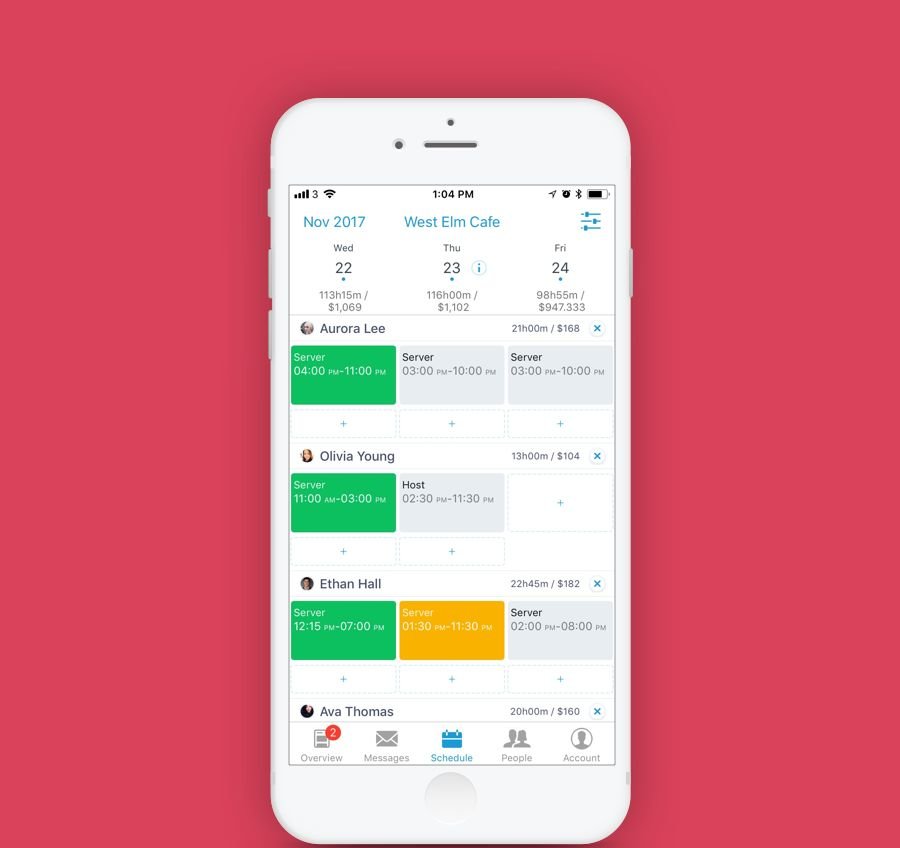 Refreshed Overview and Account sections
You'll notice cleaner, sleeker Overview and Account sections of the app. From the Overview screen, you can see more relevant information, like all your upcoming shifts. From the Account section, you can now easily access more information like payslips, documents, etc. From here, employees can also submit their working availability.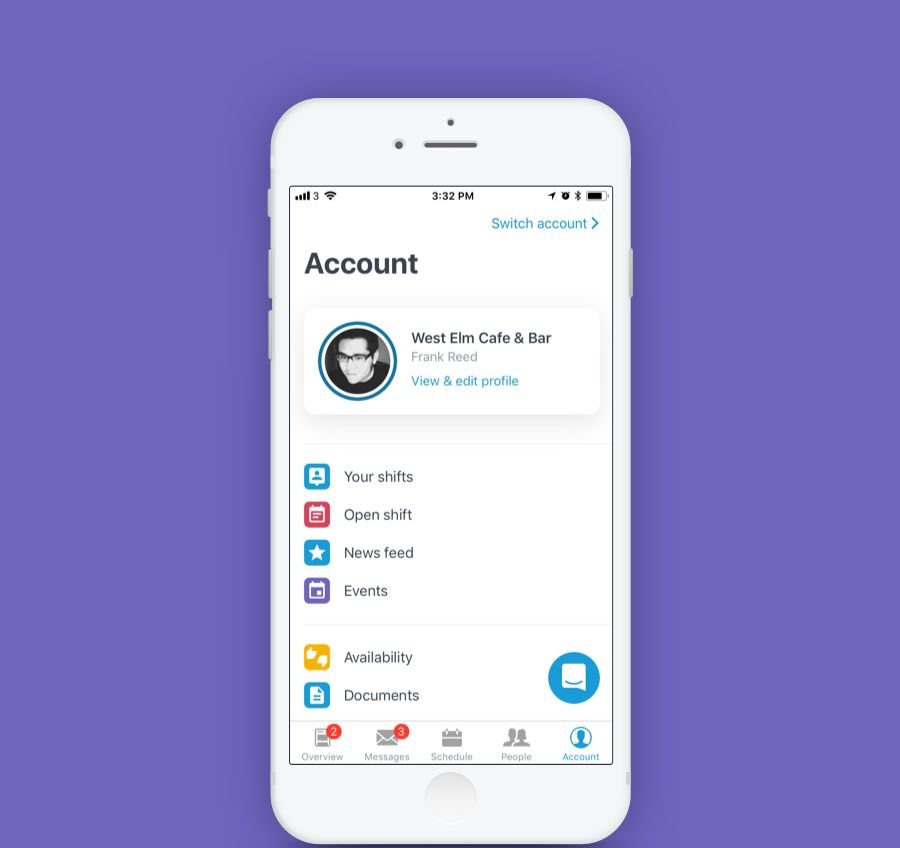 iPad app enhancements
If you've upgraded to iOS 11 on your iPad, you'll notice a handful of convenient new features, including:
More to come!
There's a whole lot more functionality and design updates headed your way! We can't wait to implement more of your feedback, and we'll update you when we do ???