New Feature to Power Your Punch Clock
The Planday team works harder every day so you don't have to. Every month The Planday Blog dives deeper into our newest and most favourite features to see how Planday gives you faster data to make smarter decisions. This month, we will see how Planday has added more power to your Punch Clock.
Feature in focus: November 2019
Ready or not, the holiday season is upon us. Across Europe, quaint markets are almost ready, the UK's famous festive advertisements are hitting television screens and managers are turning their minds to scheduling for the 'silly' season.
So whether you're planning the roster for the many parties at your bar or restaurant, or taking on extra staff in your retail store as the festive season approaches, Planday has you covered. Recent changes to our Punch Clock will make tracking employee hours and having people check in and out even easier.
Punch Clock Profiles
With around a billion shift workers around the world, we know no two people — and no two workplaces — are the same. That's why our Punch Clock Profiles now add extra customisation, tailored to your needs.
If you have many employees using the Punch Clock at once and it takes more than a few seconds, you might want to consider using the newly-added Punch Clock Profiles.
Punch Clock Profiles help you to:
configure how your employees punch in and out
group the employees who need to punch in, by their Department
ensure the data security of your employees
It will save time — especially adding up for those who use the Planday Punch Clock every day — and give you the punch in and out data you need, while maintaining the data security of your people.
For more information on how to create a new profile, visit the Planday Help Centre.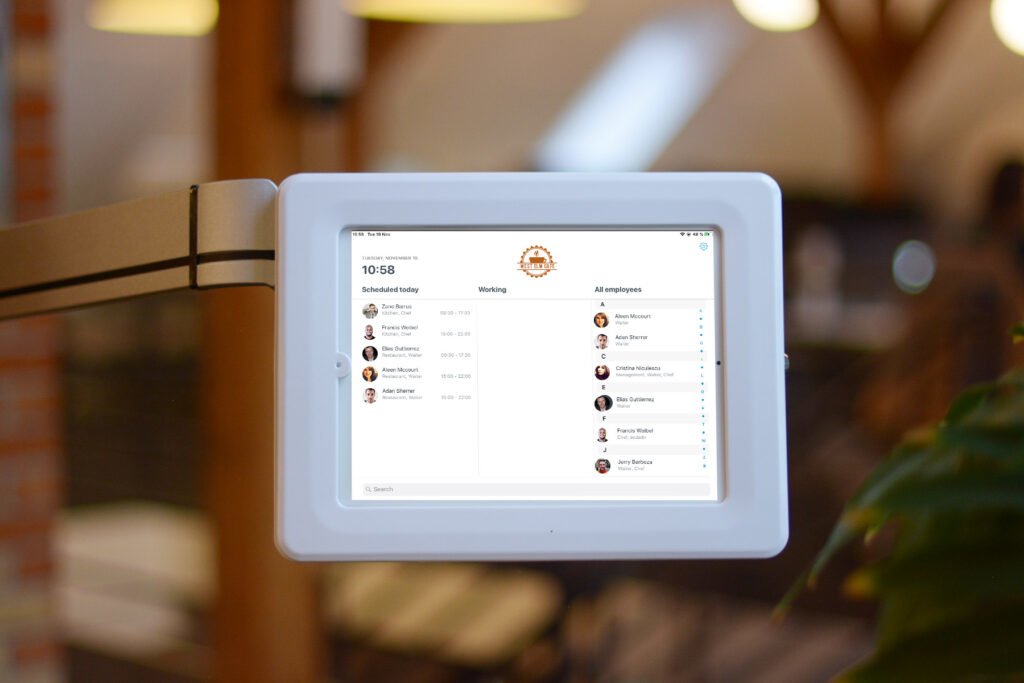 Filter employees by departments
Do you have a lot of employees on your portal and have to go through a long list so they can punch in? Do you wish you could group employees simply so people can spend less time clocking in and more time on the things that actually matter? We hear you!
With Punch Clock Profile you can filter your employees by departments, so punching in just got a lot faster. No more long lists. No more waiting time. We have streamlined the process to make your job easier. After all, that's our goal at Planday.
Added to this, your employees will only see what you let them see, sorted either by a list or by username. This also means you no longer need to worry about accidentally sharing unnecessary information from one department to another.
Punch Clock Timeframes
Do you sometimes have a shift that starts 30 mins after midnight? What about one which starts just before midnight but the bar is busy and you just have to get to work? We understand businesses like yours are busy so Punch Clock Timeframes help make the job easier, part of the Punch Clock update this month.
Punch clock Timeframes will let you decide for how long shifts should be available for clock in. We know shifts can go through the night in some workplaces, so managers can now change their settings to take that into account if you arrive late, even if that's after midnight! The time frame can be adjusted so that Punch Clock can display shifts starting both before and ahead of the current time.
This will make accounting for payroll simpler and give you — and your staff — the flexibility to get on with their job, while Planday takes care of the Punch Clock.
(Keep in mind this could mean people can punch in before their shift starts, depending on your settings.)
To enable this feature on your Planday account, please contact our Customer Support team.
What our customers say about the Punch Clock
The Punch Clock is one of our customers' favourite features — and we love it too! Here are a few of the things Planday users say about the Punch Clock.
Louise, Fitness Instructor
"My favourite feature about Planday is the Punch Clock. The app works perfectly. I really appreciate not having to go behind the reception desk and log into a system every time I have to clock in and out. Now I can enjoy spending more time with my members before and after a shift."
Louise Lee Munk Larsen, Fitness Instructor, Fitness World, Denmark
Janeke, Store Manager
"Planday makes my life easier as a manager because I don't have to worry about paying people correctly to the minute, because Planday works that out for me using the Punch Clock."
Ronny, Hospitality
"One of the features that is most used by our staff is the Punch Clock."
Ronny Wagner, Marketing, Espitas, Germany
Anything else?
Of course! Planday is always working on new features and improvements to make your job easier. Here are a few extras you'll get in this Planday update:
IP validation both for punching in and out
minor user interface (aesthetic) changes, including adding employee avatars
the addition of a notification system
the ability to log and edit break times manually
support for configuring Punch Clock for 12h and 24h time display formats